Palm Beach Real Estate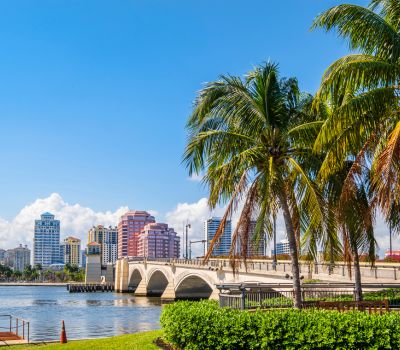 Living in Palm Beach is often associated with a luxurious and upscale lifestyle. This barrier island town, located in Palm Beach County, is known for its beautiful beaches, pristine landscapes, world-class shopping, fine dining, and cultural amenities. Palm Beach is conveniently located near West Palm Beach, which offers additional shopping, dining, and cultural attractions. West Palm Beach also has an international airport for convenient travel. If you are looking for the perfect place to find luxury real estate and enjoy immediate proximity to the beach, shopping, and entertainment, you will love Palm Beach.
Homes for Sale in Palm Beach Florida
Palm Beach, FL is a luxurious destination that offers visitors an array of activities to indulge in. From boating and shopping to waterfront views and upscale hotels, Palm Beach has something for everyone. The city's waterfront location makes it perfect for those looking to enjoy the water, whether it be through boating or simply taking a stroll along the beach. For those who prefer to stay on land, there are plenty of options for high-end shopping, with designer boutiques and upscale shopping scattered throughout the city.
As for accommodations, Palm Beach boasts a wide selection of luxury hotels, many of which offer stunning oceanfront views and top-notch amenities. Whether you're looking for a romantic getaway or a fun-filled family vacation, Palm Beach is the perfect destination for those seeking a taste of the high life.
Palm Beach boasts a diverse range of real estate offerings, from luxurious oceanfront properties to extravagant island mansions, opulent condominiums, and penthouses. This exclusive barrier island spans just 16 miles in length and was founded by Henry Flagler. Its breathtaking natural beauty, high quality of life, and charming small-town vibe have earned it a reputation as one of the world's most coveted destinations. To the east lies the Atlantic Ocean, while the Intracoastal Waterway borders its western side, separating Palm Beach from neighboring West Palm Beach and Lake Worth. Situated only 65 miles north of Miami, FL, Palm Beach is home to some of the most elite real estate offerings available worldwide. Browse our Palm Beach MLS listings below to explore all that this remarkable area has to offer.
And, for your convenience, feel free to register for a free account to receive email alerts whenever new Palm Beach listings come on the market that match your specific criteria.
Palm Beach Real Estate
December 8, 2023
Things to Do in Palm Beach
Palm Beach offers extensive dining, shopping, entertainment, and cultural opportunities. The town's real estate market is closely tied to its high-end shopping district, Worth Avenue. This upscale shopping destination is home to designer boutiques and luxury retailers, making it a draw for those seeking a luxurious lifestyle.
Palm Beach's proximity to cultural attractions, including museums, theaters, and galleries, adds to its appeal for those seeking a well-rounded lifestyle. Located in West Palm Beach, the Norton Museum of Art is one of the most prominent cultural institutions in the region. It features an extensive collection of European, American, Chinese, and contemporary art. The museum also hosts special exhibitions, educational programs, and a beautiful sculpture garden.
The Henry Morrison Flagler Museum is another engaging place to explore. Often referred to as Whitehall, this historic museum is housed in the former mansion of Henry Flagler, a pioneer of Florida's development. The museum showcases the Gilded Age lifestyle and features period rooms, antique furnishings, and temporary exhibitions. It's located on Palm Beach Island.
Palm Beach is also known for its upscale dining scene. Savor gourmet cuisine at one of the town's renowned restaurants with oceanfront views, or enjoy a vibrant nightlife scene with bars, clubs, and entertainment venues offering live music and dancing.
Schools in Palm Beach
The Palm Beach County School District operates several public schools in the area, including elementary, middle, and high schools. There are also many private school choices in Palm Beach, in addition to various higher education opportunities. While Palm Beach is often thought of as a place to enjoy a luxury retirement, but it also an excellent place for young families to live.
Palm Beach Real Estate
Palm Beach is known for its exclusive and luxurious real estate market. Waterfront estates, historic properties, and upscale residential communities are prevalent in the area. In addition to single-family homes, Palm Beach offers a selection of high-end condominiums. One of the most sought-after aspects of Palm Beach real estate is oceanfront living. Many properties offer direct access to the pristine beaches of the Atlantic Ocean. The real estate in Palm Beach also showcases a diverse range of architectural styles. You'll find Mediterranean Revival, Colonial Revival, Art Deco, and modern contemporary designs, among others. Historic homes are also prevalent, reflecting the town's rich history.
Those looking to purchase a home in an HOA-managed community with luxury amenities will find many excellent options in the area. Palm Beach boasts several exclusive clubs and communities, including private golf clubs and social clubs. Membership in these clubs can provide access to additional amenities and social opportunities. Keep in mind that the real estate market in Palm Beach is highly competitive, and properties often receive significant interest from buyers both nationally and internationally.
Contact Your Palm Beach Realtor®