Why You Might Not Want to Downsize in Retirement
Posted by Aaron Cohen on Sunday, October 8, 2023 at 1:59 PM
By Aaron Cohen / October 8, 2023
Comment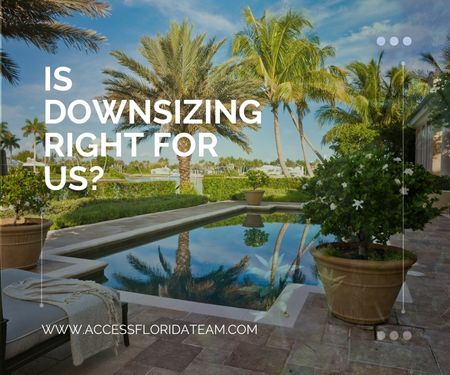 Downsizing is a common strategy among retirees, sometimes offering financial benefits while also providing less to manage. While downsizing is a great fit for some retirees, it's not right for everyone. There are several reasons why you might not want to downsize when you retire in Palm Beach County, and these reasons range from emotional and practical to financial and lifestyle-oriented.
Purchasing a home that is as large as or larger than your current home may be the better fit for the retirement you are planning. Here are some of the reasons why that might be true for you.
Space for Family and Guests
Retirement often brings more free time and a desire to spend quality moments with family and friends. Having a larger home provides the space to comfortably accommodate children, grandchildren, and guests when they visit. You can host family gatherings, holiday celebrations, out of town guests, and other events without worrying about limited space.
The Chance to Own Your Dream Home
Retirement often presents the opportunity finally purchase your dream home. Leveraging your home equity or tapping into the retirement savings you have been waiting to use all these years can be the perfect opportunity to celebrate this achievement.
Perhaps owning your dream home was not practical or accessible in years past, but it's not too late to look at luxury homes for sale in Palm Beach County and find the place you have been waiting to call home.
Storage and Sentimental Belongings
Downsizing often means saying goodbye to a large portion of your belongings. Over the years, we tend to accumulate a significant amount of possessions, from furniture to sentimental items to collections. A larger home provides ample storage space for these belongings, so you don't have to part with cherished items or face the challenge of decluttering.
Home Office and Work Space
In today's world, many retirees continue to work or engage in hobbies that require a dedicated workspace. With a larger home, you can create a home office or studio where you can pursue your passions or even start a new business venture. This autonomy and flexibility can be invaluable in retirement.
Adapt to Changing Needs
As retirees age, their needs may evolve. A larger home can offer more adaptability to changing circumstances, such as the need for mobility aids, in-home healthcare, or accommodating live-in caregivers if necessary. Being prepared for these potential needs can provide peace of mind.
Access to Amenities
Palm Beach County has many luxury homes, gated communities, and active 55+ neighborhoods that provide access to activities, services, and amenities that will add value to your life. Buying a larger home in a community like this might be worth the added responsibility because of the access it gives you to these exclusive benefits.
Property Appreciation
Real estate in Palm Beach County, like many desirable retirement destinations, can appreciate quite significantly over time. By investing in a larger home, you may benefit from property value increases that can be reinvested or passed on to your heirs. While this benefit will occur in any home, a home that begins as a larger investment will translate into more equity in the future. If you can afford the larger home, including the maintenance of it as you get older, it is generally going to be a smarter investment in your golden years.
If you're not sure what type of homes for sale in Palm Beach County will be the right fit for your retirement plans, keep reading for some factors you might want to consider before choosing the right home for you. Contact us any time to learn more about homes in Palm Beach County Active 55+ communities, golf course communities, gated communities, waterfront homes, and more.