What Does It Really Cost to Own a Home with a Pool in South Palm Beach County?
Posted by Aaron Cohen on Thursday, November 2, 2023 at 3:54:17 PM
By Aaron Cohen / November 2, 2023
Comment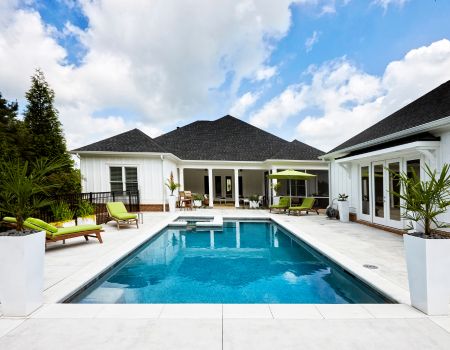 When you buy any home, it's essential to make sure you are aware of any additional costs or obligations associated with that particular property. Whether it is the HOA guidelines and dues, upcoming repairs that will be needed, or anything else, the more information you can gather, the better. This is particularly true when you buy a house with a pool in South Palm Beach County.
We can help you find the right house for sale in Palm Beach County, whether it has a pool or not. Contact us any time to get started! If buying a home with a pool is something you are considering, keep reading to learn more about the real cost and responsibility of it.
Pool Maintenance and Tools
Pool maintenance can be something you handle yourself or outsource, but either way is a responsibility you should factor in to your housing budget. There are accessories and tools you will need to keep on hand and in good condition to maintain the pool, like pool filters, chemicals, skimmer baskets, lighting, pool vacuum, pump, and more.
Ongoing maintenance will entail keeping the water level at the right place and checking the pH of it, treating with chemicals when necessary. Scrubbing the walls and skimming the surface are also tasks that will need to be regularly handled. Most people in Florida do not close their pools for the winter, but you can decide if you would like to do this or keep up with maintenance throughout the year.
Insurance and Responsibility
Buying a home with a pool may cost you more in insurance. Talk with your homeowners insurance agent to find out what it might cost to insure the home if there is a pool, as it does increase the risks associated with the property.
In some cases, the increase to the insurance cost is so minimal you wouldn't even notice it, but it is always best to talk with your agent and get a quote so you have all the information you need.
Even if you do not have a significantly higher insurance premium, there are responsibilities that come along with owning a home with a pool. Florida requires that all pools be equipped with certain safety features, and many homeowners find that for their own peace of mind they should invest in additional safeguards, like fences and alarms.
Pools are categorized as "attractive nuisances," a legal term that covers potentially dangerous features of a property that may attract children; another example would be a trampoline. If you have not provided the required safeguards, you could be liable in case of an accident. Drowning is a leading cause of death among children, and no pool owner wants to be responsible for a horrible accident. As you look at homes for sale with pools, consider what safety features are already in place and factor in any you might like to add.
Ongoing Costs
The ongoing expenses associated with owning a pool include:
Pool cleaning tools and chemicals
or
Pool cleaning service
Water to keep the level where it needs to be
Sealing and maintaining the pool
Draining and refilling when necessary
Life Expectancy of a Pool
As part of your home inspection process before buying the home, find out as much as you can about the maintenance the pool has had and its life expectancy. The cost to repair, refinish, or replace a pool can be significant and you will want to know when to anticipate it.
Find out if the pool is made of vinyl, concrete, or fiberglass. Depending on the materials used and the way it has been maintained, it might last for anywhere from 5 to 25 years total.
Choosing the right home for you is a detailed process, and we are here to help. Contact us any time to begin the search for your home in South Palm Beach County.