Watch for These Things on Your Palm Beach County Home Inspection Report
Posted by Aaron Cohen on Saturday, September 30, 2023 at 12:31:32 AM
By Aaron Cohen / September 30, 2023
Comment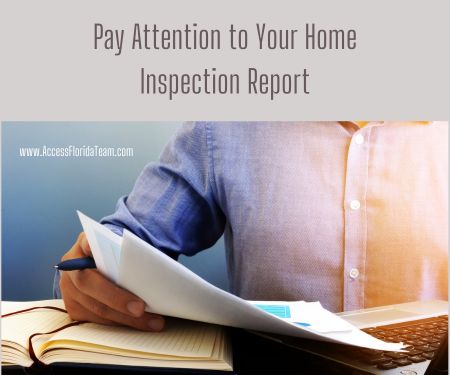 One of the best things you can do for your own peace of mind when buying a home is pay careful attention to the home inspection report. This is the document that will give you confidence about your decision to purchase the home, allowing you to move forward with the information you need about the condition of the property and any potential issues that may need addressing. To ensure you get the most out of your home inspection, there are key aspects to look for on the inspection report.
Structural Integrity
Check for any signs of structural damage or issues, such as cracks in the foundation, walls, or ceilings. These could indicate foundation problems or settlement issues that may require costly repairs.
Condition of the Roof
Examine the condition of the roof, including the age, material, and any visible damage or leaks. A well-maintained roof is essential in Florida's climate, where heavy rains and hurricanes are common.
Plumbing and Electrical
Assess the plumbing system for leaks, water pressure, and the condition of pipes, fixtures, and drains. Ensure there are no signs of water damage or mold growth.
The electrical system should be safe and functional. Look for any outdated wiring, circuit breaker issues, or unsafe electrical conditions that could pose hazards.
HVAC
Inspect the heating, ventilation, and air conditioning (HVAC) systems. Ensure they are in good working order and have been properly maintained. Florida's hot and humid climate makes a well-functioning HVAC system crucial.
Insulation
Assess the insulation and ventilation in the attic and crawl spaces. Proper insulation and ventilation help regulate indoor temperatures and energy efficiency. Florida's humidity can contribute to mold and mildew issues, especially if there is poor ventilation. Check for signs of mold growth or water damage in areas like basements, bathrooms, and around windows.
Pests
Termite damage can be a significant concern in Florida. Look for signs of termite activity or damage, and consider a separate termite inspection if necessary.
It's also possible for other pests to be present or to have caused damage. Make sure your inspection report is clear about any evidence of pests.
Exterior
The exterior of the home can suffer damage from hurricanes, humidity, sun rot, and other environmental factors over time. Examine the exterior of the home, including siding, paint, and the condition of doors and windows. Look for signs of water intrusion, rot, or pest damage.
Negotiations in Response to the Report
Remember, the home inspection report is just providing you with information you need. Even if the inspector discovers a major problem with the property, it is ultimately good news to find out before closing on the home.
If your inspection report reveals something of concern, there are a few ways you can proceed. We nearly always recommend including a home inspection contingency in your offer, which will allow you to back out of the purchase if the report reveals an issue that is a deal breaker for you.
In some cases, the report reveals a problem that is something that you want to resolve, but not enough to make you walk away from the deal. If that's the case, we will help you negotiate with the sellers to find a solution that works for you. This might mean a lower purchase price, a credit given to you at closing, or a condition that requires the seller to fix the problem before closing.
Ready to learn more about finding a home to buy in Palm Beach County? Whether you are looking for something in a golf community, a gated community, an active adult community, or anything else, we can help you find homes for sale in Palm Beach County that will be the right fit for you. Contact us any time to get started.