Perks of Living on the Intracoastal Waterway in Palm Beach County
Posted by Aaron Cohen on Friday, October 6, 2023 at 8:46:30 PM
By Aaron Cohen / October 6, 2023
Comment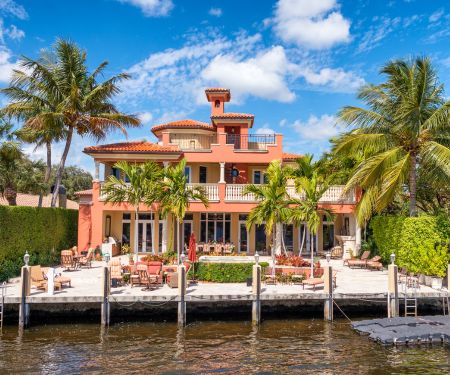 Palm Beach County is renowned for its luxurious coastal living, and one of the most sought-after lifestyles in this paradise is living along the Intracoastal Waterway. Stretching from Miami to Massachusetts, the Intracoastal Waterway, or ICW, is a ribbon of interconnected bays, rivers, and canals that offers a unique and picturesque way of life.
If you are looking for homes for sale on the Intracoastal Waterway in Palm Beach County, we can help you find them. Contact us any time to learn more, and consider some of the compelling benefits of living in one of these beautiful homes.
Breathtaking Views
Perhaps the most obvious benefit of living on the Intracoastal Waterway is the breathtaking, ever-changing views. Wake up to stunning sunrises, watch boats sail by, and enjoy the shimmering reflections of the water.
The ICW is teeming with marine life and bird species. You can observe dolphins, manatees, pelicans, and a variety of other wildlife right from your backyard or while out on the water. Waterfront living is associated with improved mental well-being. The soothing sights and sounds of water have a calming effect, reducing stress and promoting relaxation.
Waterfront Lifestyle
Living on the Intracoastal Waterway means having direct waterfront access right in your backyard. Many properties along the ICW feature private docks, boat lifts, or seawalls, allowing you to enjoy the water at your leisure. It also presents the opportunity for luxurious and unique hospitality, entertaining with views of the water and the boats passing by in the background.
Many homes on the ICW have already taken full advantage of this and feature beautiful outdoor living spaces along the water.
Boating and Water Sports
If you're a boating enthusiast, the ICW is a dream come true. You can easily launch your boat from your own dock and explore the Intracoastal, venture out to the Atlantic Ocean, or cruise to nearby destinations like Peanut Island or Lake Worth Lagoon.
Living along the Intracoastal opens up a world of water sports opportunities. From kayaking and paddleboarding to jet skiing and fishing, you can partake in a wide range of activities just steps from your door.
Dining and Entertainment
The ICW is lined with charming waterfront restaurants and bars where you can dock your boat or simply enjoy a meal with a view. Whether it's a casual brunch or a romantic dinner, you have a plethora of dining options.
Palm Beach County hosts numerous waterfront events and festivals year-round. From boat shows and regattas to fireworks displays and live music concerts, you'll always have something exciting to look forward to.
Property Values
Waterfront properties along the Intracoastal Waterway tend to hold their value well and often appreciate over time. It's a solid long-term investment that can offer financial security.
Community
Living on the Intracoastal Waterway fosters a strong sense of community. Neighbors often share a love for the water and an active outdoor lifestyle, creating opportunities for socializing and forming lasting friendships.
Privacy
Despite being close to vibrant city life, the Intracoastal offers a sense of privacy and tranquility. Many waterfront properties are nestled in lush vegetation and well-shielded from the bustling streets.
Intracoastal Waterway homeowners enjoy the best of both worlds, easily accessing the dining, shopping, healthcare, and entertainment of major cities nearby, while never having to worry about developments going up in their backyards or road noise nearby.
Living along the water in Palm Beach County provides a uniquely peaceful atmosphere. To find Intracoastal Waterway homes for sale, contact us any time