Is a Multi-Generational Home in Palm Beach County Right For You?
Posted by Aaron Cohen on Friday, October 20, 2023 at 1:26:30 PM
By Aaron Cohen / October 20, 2023
Comment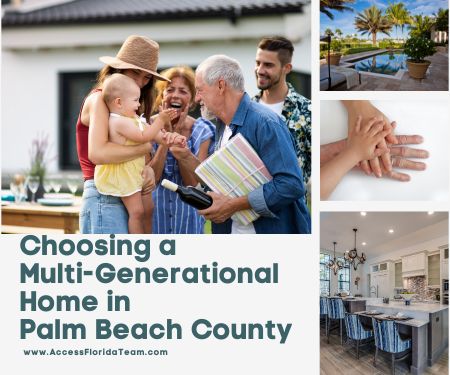 Multi-generational households have been an advantageous solution for centuries, and are back in vogue as more families are looking for the benefits this lifestyle provides. As the demand for multi-generational living options continues to rise, Palm Beach County in Florida has become an attractive destination for families seeking a harmonious and accommodating environment for multiple generations. With its diverse range of housing options, vibrant communities, and abundant recreational opportunities, Palm Beach County offers a variety of options for families considering multi-generational living.
Living together with multiple generations is not the right fit for everything, but can provide unique solutions and perks for some families. To learn more about homes for sale in Palm Beach County that would work for your multi-generational home, contact us any time. Keep reading for tips and considerations to keep in mind as you decide if this is the right direction for you to take in your house hunting journey.
Challenges and Benefits of Multi-Generational Living
In any house hunting journey, you have to begin by deciding what you are looking for. What is leading you to make a transition? Maybe you are entering a new phase of life, have worked to be able to afford your dream home, or want to move to a new location. Whatever your unique situation, consider these pros and cons of multi-generational living to see if they fit with your plans for buying a home in Palm Beach County.
Benefits of Multi-Generational Living
Family Bonding
Multi-generational living fosters strong family bonds, providing an opportunity for different generations to connect, support each other, and share valuable life experiences.
Financial Support
Sharing living expenses, such as mortgage payments, utilities, and maintenance costs, can alleviate financial burdens and create a more stable financial environment for all family members.
There are more ways than one to divide the financial responsibilities of homeownership. Some families find it beneficial for the older generation to leverage the equity in their current home toward a substantial down payment, while the younger generation then covers the monthly mortgage payment. This can be mutually beneficial because it allows the older generation to limit their ongoing expenses in retirement and the younger generation can get a leg up with a larger down payment.
Caretaking
Multi-generational households provide built-in care and support for older family members, ensuring their well-being and allowing them to age in a familiar and nurturing environment.
Many families also find that this is a great solution for childcare. Grandparents can spend time with grandchildren while the children are at work, which has been shown to benefit all generations equally.
Culture and Traditions
Living with multiple generations under one roof encourages the exchange of cultural values, traditions, and experiences, promoting a deeper understanding and appreciation of diverse perspectives within the family.
Sharing the Load of Responsibilities
Distributing household responsibilities among family members can reduce the workload for everyone, allowing for a more balanced and harmonious living arrangement. As the older generation ages, this can be particularly beneficial to alleviate some of the stress and expense of finding ways to keep up with home maintenance.
Challenges of Multi-Generational Living
Lack of Privacy
Depending on the home you choose and your individual family's dynamic, privacy may feel lacking.Balancing privacy needs and personal space for each family member can be challenging in a multi-generational household, especially in a shared living space.
Interpersonal Conflict
Differences in opinions, lifestyles, and expectations among family members may lead to conflicts and disagreements, requiring effective communication and conflict resolution skills to maintain a harmonious living environment.
Adjustment Period
Adjusting to the dynamics of a multi-generational household can be a significant transition for everyone, requiring patience, understanding, and a willingness to adapt to new routines and living arrangements.
Plan to give grace to each other and communicate about the adjustment period to work toward a living situation that benefits everyone.
Conflicting Needs
Addressing the diverse needs and requirements of each generation, including children, adults, and seniors, requires thoughtful consideration and planning to ensure everyone's well-being and comfort.
Consider each generation's preference for noise level, clutter, household chores, and entertaining to find a compromise or solution that works for the whole household.
Space Limitations
Accommodating the needs of multiple generations within a single household may pose spatial constraints, necessitating careful planning and organization to ensure everyone has adequate living space.
It is helpful to think ahead as much as possible to anticipate children being added to the family or the need for in home healthcare workers in the future.
Questions to Ask Before Moving into a Multi-Generational Home
If a multi-generational home will be new to you, here are some questions to ask yourself before you begin looking for one:
Do our family dynamics work for this lifestyle?
What are each generation's future plans and will this home accommodate those?
How much space would we like to share, and how much do we want our own separate living areas?
What will be the ongoing financial plan for sharing expenses?
What amenities do we want to be close to?
Are we looking for a home in a gated community, a golf course community, or a waterfront location?
What to Look for in a Multi-Generational Home in Palm Beach County
Making a wish list, a must-haves list, and a dealbreakers list can be helpful in any house hunting process. As you decide what you are looking for in a multi-generational home, keep these things in mind:
Do we want to share a kitchen?
Will we plan for aging in place, and does the home need to be wheelchair accessible?
What type of entertaining spaces should the home have? Do we plan to host people together or separately?
How many bedrooms, bathrooms, and living areas do we need?
What type of community do we prefer?
What amenities should be located within a close distance?
Where to Find a Multi-Generational Home in Palm Beach County
After you have determined what you are looking for in your multi-generational home in Palm Beach County, you can begin to narrow down the right location. For something upscale and peaceful, you might prefer Wellington or Jupiter. Want to be close to lots of shopping and amenities? Maybe Boca Raton or West Palm Beach will be the right fit. Whatever you are looking for, we can help you find it.
Ready to learn more about houses for sale in Palm Beach County with space for multiple generations? Contact us any time.