Hobbies to Try When You Retire in Palm Beach County
Posted by Aaron Cohen on Tuesday, October 10, 2023 at 8:32:39 PM
By Aaron Cohen / October 10, 2023
Comment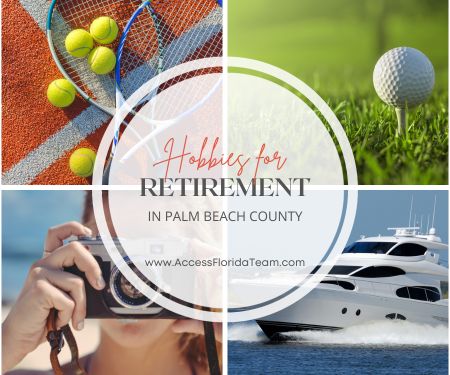 Retirement is a time for relaxation, self-discovery, and pursuing passions that may have been put on hold during one's working years. Palm Beach County, Florida, with its pleasant climate, abundant natural beauty, and vibrant cultural scene, offers an array of exciting hobbies to enjoy during your retirement. Here are just some hobbies you can indulge in when you retire in Palm Beach County.
Golf
Florida is famous for its beautiful golf courses, with abundant sunshine and a mild climate that make it easy to enjoy the beloved hobby all year round. Palm Beach County is renowned for its world-class golf courses. Retirees often take up golf as a leisure activity to enjoy the sunny weather and well-maintained fairways. Many communities in the area feature golf courses right at your doorstep, and there are numerous public courses for all skill levels.
If you want to take your golf game to the next level in your regiment years, consider buying a home in a golf course community in Palm Beach County. This will give you even more opportunities to enjoy spending your time doing what you love.
Tennis
Tennis enthusiasts can take advantage of Palm Beach County's excellent tennis facilities. Join a local club, find a partner, or simply enjoy the numerous public courts available throughout the region. The climate allows for year-round play.
Another great way to enjoy tennis in your retirement years is to choose an active adult community in Palm Beach County that features tennis courts. You can easily find tennis partners in the community and enjoy exclusive access to the community amenities.
Bird Watching
The county's diverse ecosystems, including wetlands, forests, and coastal areas, make it a haven for birdwatching. Grab your binoculars and explore natural areas like Grassy Waters Preserve, Green Cay Nature Center, and more to spot a wide variety of avian species.
Beachcombing
Palm Beach County boasts over 45 miles of pristine coastline. Spend your retirement walking along the sandy shores, collecting seashells, and enjoying the gentle waves. You can also try your hand at beach photography or beachfront yoga.
Fishing
From freshwater to saltwater, Palm Beach County offers excellent fishing opportunities. Whether you prefer casting your line from a pier, chartering a boat for deep-sea fishing, or trying your luck in one of the numerous lakes and rivers, fishing is a popular hobby for retirees.
Boating and Watersports
With the Atlantic Ocean on one side and the Intracoastal Waterway on the other, Palm Beach County is a paradise for boaters and water sports enthusiasts. Whether you have a sailboat, kayak, or paddleboard, there are endless opportunities to explore the water.
If you want to enjoy time on the boat right outside your back door, consider buying a home on the Intracoastal Waterway where you can launch from your private dock any time.
Fitness and Wellness
Staying active is essential in retirement, and Palm Beach County offers a plethora of fitness and wellness options. Whether it's group yoga on the beach, cycling along scenic routes, or participating in senior fitness classes, there's something for everyone.
This is another hobby that can be easily enjoyed with access to community amenities. There are multiple Palm Beach County active adult communities that feature beautiful fitness centers, exercise classes, special wellness events, and more.
Whatever lifestyle you imagine yourself having in your retirement years in Palm Beach County, we want to help you find the home that sets you up to enjoy it. Contact us any time to learn more about finding the home you will retire in.