Best Places for Snowbirds in Palm Beach County
Posted by Aaron Cohen on Friday, November 10, 2023 at 11:37:15 PM
By Aaron Cohen / November 10, 2023
Comment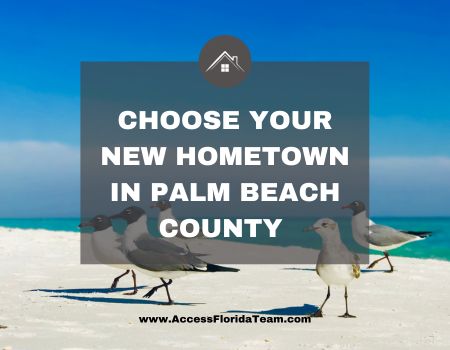 If you are looking ahead to plan your years as a snowbird, homes for sale in Palm Beach County are likely on your mind. This beautiful and sunny location has been a popular destination for retirees for years, and there is a long list of reasons this is the case.
Finding the right community in Palm Beach County for your snowbird plans might take some time. We are always available to help you find your ideal property in the area, and we have listed 8 of our favorite locations for snowbirds below. Contact us any time to learn more about homes for sale in any Palm Beach County area.
Boca Raton
Boca Raton is known for its upscale lifestyle, pristine beaches, and cultural attractions. Snowbirds can enjoy world-class dining, shopping at Mizner Park, and cultural events at the Boca Raton Museum of Art. The city's beautiful parks and golf courses add to its allure, providing a perfect blend of luxury and outdoor recreation.
Delray Beach
Delray Beach offers a vibrant and diverse community with a lively downtown area known as Atlantic Avenue. Snowbirds can explore art galleries, boutique shops, and a variety of restaurants. Delray Beach is also famous for its beautiful beaches and cultural events, making it an ideal destination for those seeking an active and social lifestyle.
West Palm Beach
West Palm Beach is the county seat and a hub of cultural activities. Snowbirds can explore the Norton Museum of Art, attend performances at the Kravis Center for the Performing Arts, and stroll through the trendy Clematis Street district. The city's waterfront areas, including the scenic Palm Beach Island, offer additional recreational opportunities.
Jupiter
Jupiter is a coastal town known for its natural beauty and outdoor activities. Snowbirds can explore the Jupiter Inlet Lighthouse and Museum, enjoy waterfront dining at Harbourside Place, and engage in boating or fishing along the Intracoastal Waterway. The town's proximity to natural preserves and parks adds to its appeal.
Palm Beach Gardens
Palm Beach Gardens is recognized for its upscale communities, golf courses, and shopping destinations like The Gardens Mall. Snowbirds can indulge in a luxurious lifestyle while taking advantage of the city's proximity to cultural venues and outdoor recreation areas, including the beautiful Frenchman's Forest Natural Area.
Wellington
Wellington is renowned for its equestrian culture, making it a unique destination in Palm Beach County. Snowbirds can experience horse shows at the Palm Beach International Equestrian Center, explore Wellington's Green Market, and enjoy the community's parks and outdoor spaces.
Lake Worth Beach
Lake Worth Beach offers a diverse and eclectic atmosphere, attracting snowbirds seeking a more bohemian lifestyle. The downtown area is known for its vibrant arts scene, cultural events, and historic Lake Worth Playhouse. The city's beach area and Bryant Park provide additional recreational options.
Boynton Beach
Boynton Beach offers a mix of waterfront living, cultural attractions, and outdoor activities. Snowbirds can explore the Boynton Beach Art District, enjoy the Intracoastal Waterway, and visit local parks such as Oceanfront Park. The city's marinas and fishing opportunities are also appealing to those who love water-related activities.
Ready to learn more or search for your home in Palm Beach County? Whether you are looking for a luxury home in a gated community, a waterfront home on the Intracoastal, or a low maintenance condo, we are here to help. Contact us any time to get started.