Aging in Place in an Active 55+ Community
Posted by Aaron Cohen on Tuesday, September 19, 2023 at 4:52 AM
By Aaron Cohen / September 19, 2023
Comment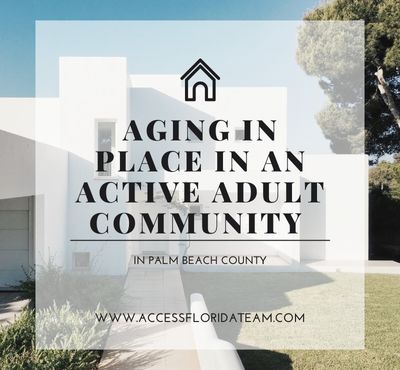 As you prepare for your retirement years, it is essential to think ahead beyond our current phase of life and anticipate your future needs. Aging in place in an active 55+ community in Palm Beach County offers seniors a vibrant and fulfilling lifestyle that caters to their needs, preferences, and desire for social engagement.
Palm Beach County, known for its beautiful weather, pristine beaches, and diverse cultural scene, is home to numerous 55+ communities that provide an ideal environment for seniors looking to enjoy their retirement years while remaining independent. Contact us any time to learn more about living in a Palm Beach County Active 55+ Community.
Active 55+ communities, often referred to as active adult or retirement communities, are designed with seniors in mind. These communities offer a range of amenities, activities, and services tailored to the needs and interests of older adults. Palm Beach County boasts a wide selection of active adult communities, each with its unique charm and offerings. Here's why they are so appealing for aging in place.
Social Connection and Amenities
One concern some older adults have about aging in place is feeling isolated. While continuing to live in your own home is a great way to stay comfortable, maintain independence, and preserve privacy, it can come with a lack of social connection in comparison to assisted living facilities and other retirement communities.
In an active 55+ community, you get the best of both worlds. Active 55+ communities promote social engagement by organizing various clubs, events, and gatherings. Residents have the opportunity to make new friends, connect with like-minded individuals, and maintain an active social life.
Many of these communities in Palm Beach County feature resort-style amenities, including swimming pools, fitness centers, golf courses, tennis courts, and walking trails. There are typically numerous clubs and activities to choose from, such as arts and crafts, fitness classes, card games, and book clubs. In the warm climate we enjoy here all year round, it is easy to stay active and connected to your community.
Maintenance-Free Living
One of the primary advantages of these communities is the ease of living. Maintenance of common areas and landscaping is typically handled by the community association, freeing residents from the burdens of home upkeep and yard work.
Keeping maintenance level in mind is key as you are searching for a home with the goal of aging in place. In addition to choosing a community where the common areas and landscaping are handled by the association, look for a home that is equally low maintenance on the interior, and consider factoring in help with housekeeping in your financial planning.
Safety and Security
Many 55+ communities prioritize safety and security. Gated entrances, security patrols, and emergency response systems provide residents with peace of mind, especially for those living alone.
Access to Healthcare
Palm Beach County offers access to quality healthcare facilities and services. Some active adult communities may even have on-site medical facilities or partnerships with nearby healthcare providers, ensuring residents receive the care they need.
If this is a top priority for you, let us know so we can help you find the community that is ideally suited to your needs.
Housing Features
Perhaps one of the most significant determining factors in whether you can age in place is the home itself. To accommodate staying in your own home as mobility becomes limited or other challenges arise, you need to choose a home that was designed with your needs in mind.
Homes in these active 55+ communities are nearly always designed with seniors in mind. They may include features like single-level living, wide doorways for wheelchair accessibility, and grab bars in bathrooms, making daily life more convenient and safe.
Think ahead to what you would like your life to look like if you do need more accommodations. This can help you shape your criteria for a home during your house hunting time. For example, you may want to find a home that has space for an in-home healthcare worker to stay overnight, or perhaps a wheelchair accessible shower is a priority for you.
Ready to look for your home in Palm Beach County for aging in place? Contact us any time.